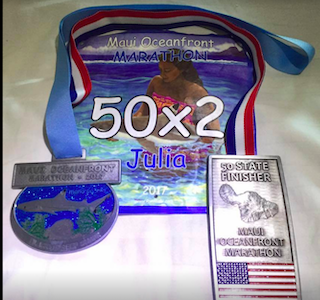 I became a running coach to help myself run injury free for life. I learned proper running technique so I can stave off injury and you know what they say, once you help yourself, its time to go help others.
I believe that the physical and mental strength you cultivate through running directly manifests into all aspects of your life and enhances you as a human being. Once you have built the foundation with strength and good running form to physically handle the demands of distance running, the only limits that remain are in your mind.
I live, breath, and embody what I teach. My love of running is clearly evident in both my professional and my personal life.
Goal coaching starts with establishing a goal. From there, we work together to create coaching plans tailored to your unique needs, life hacks to help you get out of your own way, figuring out your dream race, reminding you of your purpose, your WHY, re-framing your attitude to get the necessary hard work done, daily motivation, I'm here to support you!
What's your dream race?
What's your dream time goal?
When do you want to get started?