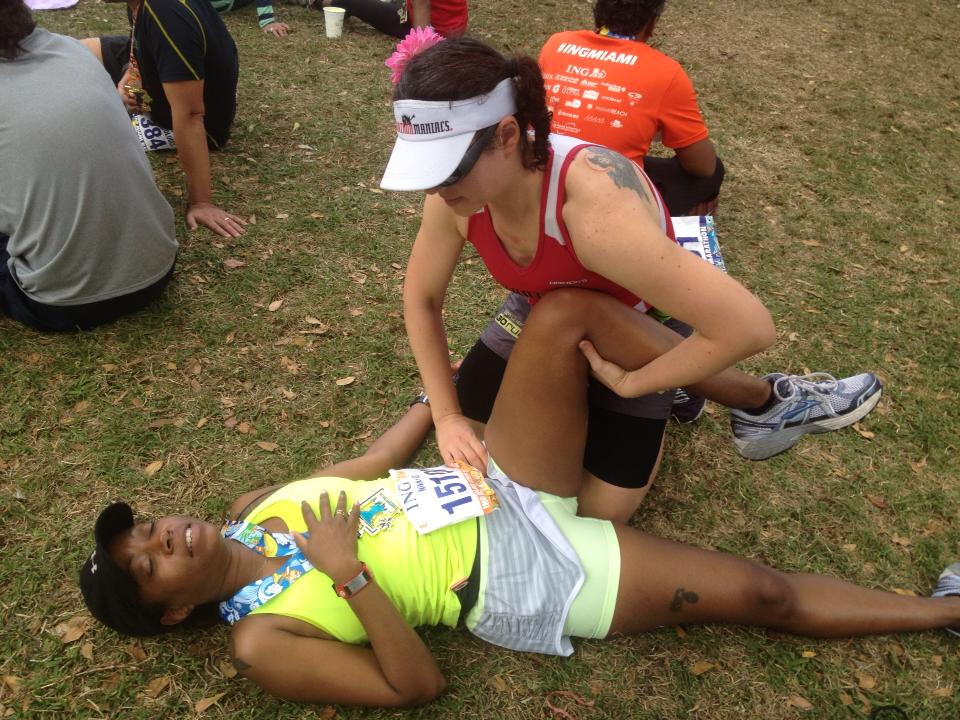 Julia Khvasechko
M.S., L.M.T., NCBTMB, RYT, RRCA Certified Running Coach, Functional Health & Human Performance Coach
Owner and Founder of Ultra Marathon Massage, Julia Khvasechko, is a Licensed Massage Therapist, a Registered Yoga Teacher, a Road Runners Club of America (RRCA) Certified Running Coach, and most recently, a Functional Health & Goal coach and a Bodywork specialist. Julia holds degrees from Marymount Manhattan College, Pacific College of Oriental Medicine, and Pacific College of Health and Science.
Besides being a Licensed Massage Therapist, Julia is an avid athlete herself. She is an accomplished marathoner and an ultra marathoner. When she isn't pacing marathons, she typically places in the top percentile in her races, even winning some races. She has a keen understanding of anatomy, physiology, myology, Kinesiology, and expert knowledge of the muscles used while running.
Julia is a 10 star member of the Marathon Maniacs and a 2 TIME certified FINISHER of the 50 State Marathoning club. She has completed more than 250 marathons in all 50 States, plus DC, TWICE! She is 3 states away from completing a 3rd circuit of the 50 states and she is also planning to run a marathon on every continent as her next feat!
Julia knows exactly how to prepare athletes for peak performance. A full massage - maintenance program, as well as a pre- and a post-event massage, with varying techniques, to encourage endurance, reduce chances of injury, and shorten recovery time, tailored for each individual athlete to fit the athlete's specific training needs.
She combines both Western and Eastern modalities including Thai, Shiatsu, Swedish, Sports, Myofascial Release, and Neuromuscular Therapy and tailors each session to your specific needs.
Julia graduated with Honors and received her Masters of Science Degree in Health and Human Performance so she can offer Coaching Skills in Lifestyle, Nutritional & Herbs, Fitness, and Mindset to her clients. Set up a discovery call today and see how she can help you reach your full potential.
Marathon Massage caters to all athletes, from the weekend warrior who is training for a first marathon to the seasoned athlete who is training for an Ironman challenge. Julia started this company because she knows firsthand the benefits of regular Massage and Goal Coach for athletes and wants to help you stay healthy and perform at your maximum capacity.
Let Marathon Massage help you reach your finish line faster and injury free!
Functional Health Coach & Goal Coach
Lifestyle ~ Figuring out your Purpose ~ Finding your WHY
Nutrition ~ transitioning to a Whole Food Plant Based Diet
Fitness ~ Yoga ~ Running
Mind-set ~ Grit ~ Perseverance ~ Tenacity ~ Agency ~ Fortitude ~ Determination ~ Persistence ~ Resolve ~ Endurance ~ Stick-to-itiveness